In the world of quality management, ISO 9001 stands as the gold standard. Achieving ISO 9001 certification signifies a commitment to delivering exceptional products and services, but it also requires a well-structured Quality Management System (QMS). At QikSolve, we understand the significance of a robust QMS and how SharePoint can be configured to meet the various clauses of ISO 9001. Let's explore how our expertise elevates quality management with SharePoint through the ISO 9001 SharePoint Quality Management System.
The Power of ISO 9001 Compliance
ISO 9001 is more than a certification; it's a framework for continual improvement, customer satisfaction, and process excellence. The standard comprises several clauses that guide organizations on various aspects of quality management, from leadership to performance evaluation. Configuring SharePoint to align with these clauses can streamline compliance and enhance overall quality management.
Configuring SharePoint for ISO 9001 Compliance
At QikSolve, we specialize in configuring SharePoint to meet the diverse requirements of ISO 9001. Here's how we tackle different clauses through SharePoint lists, pages, apps, and libraries:
1. Leadership and Commitment (Clause 5):
Create SharePoint pages for documenting leadership decisions and commitment to quality.
Establish clear roles and responsibilities using SharePoint pages and linked organisational charts and job descriptions.

2. Planning (Clause 6):
Use SharePoint lists to define quality objectives, quality plans, and risk assessments and assigned outcomes to users to ensure compliance to achieved and maintained.
Configure SharePoint libraries to manage project plans and product/service requirements.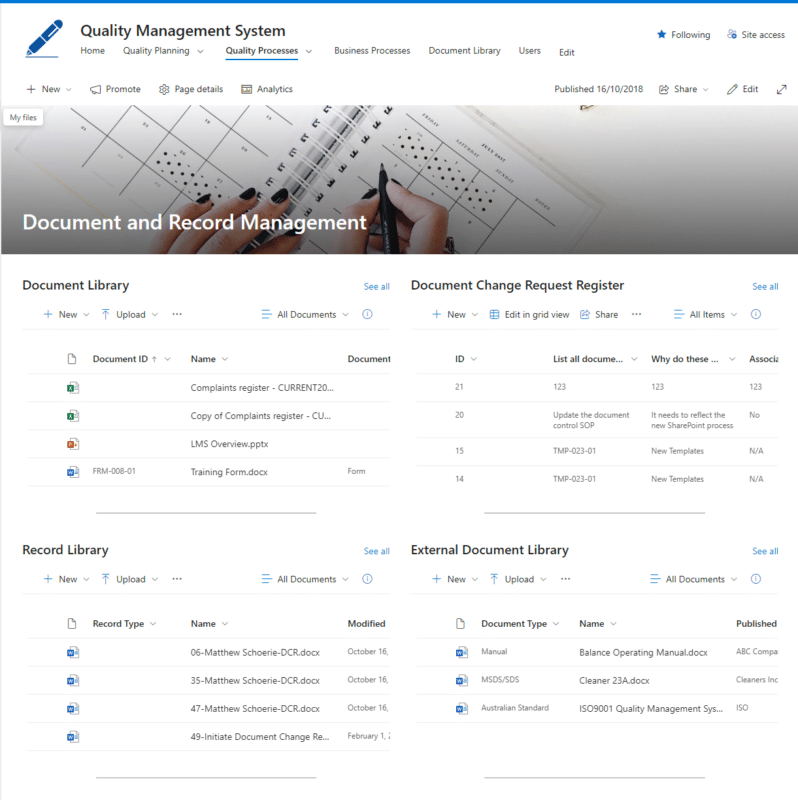 3. Support (Clause 7):
Employ SharePoint lists for managing competencies, training records, and awareness programs.
Utilise SharePoint libraries for document control, ensuring controlled access and versioning.
4. Operation (Clause 8):
Implement SharePoint workflows for process management and change control.
Utilise SharePoint lists for non-conformance management and corrective/preventive actions (CAPA).
5. Performance Evaluation (Clause 9):
Leverage SharePoint for data collection and analysis, including Key Performance Indicators (KPIs) and customer feedback.
Linked with Power BI for trended information
Curated SharePoint libraries for audits and management review documentation.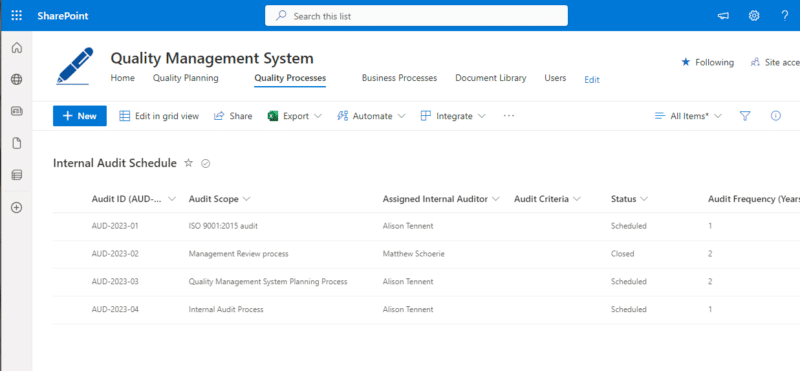 6. Improvement (Clause 10):
Configure SharePoint to track and monitor continuous improvement initiatives.
Use SharePoint lists for managing improvement ideas and action plans.
Using Power Automate to send out notifications and reminders.
Benefits of SharePoint for ISO 9001 Compliance with QikSolve
Conclusion: Trust QikSolve for ISO 9001 Compliance with SharePoint
Elevate your quality management with QikSolve's expertise in configuring SharePoint for ISO 9001 compliance. Our tailored SharePoint solutions align with the diverse clauses of ISO 9001, empowering your organization to achieve and maintain excellence in quality management without pain of running paper based systems. Contact us today to discover how we can optimise your ISO 9001 SharePoint Quality Management System.